Walmart keeps rolling back their prices…and their awareness to things sold on their website. This was proven by last week's debacle, which allowed a series of offensive clothing featuring "things you'd overhear at a frat party." These t-shirts went up for sale in Walmart's online store without the company having any knowledge at all.
Hollywood Thread, a clothing company known for shirts with family-friendly sayings like, "Property of Jesus Christ," "Cool Story Bro. Tell it Again," and, of course, "Guess what? Chicken butt," posted a series of shirts that would probably horrify every person who has previously purchased their merchandise.
Let us present this offensive clothing: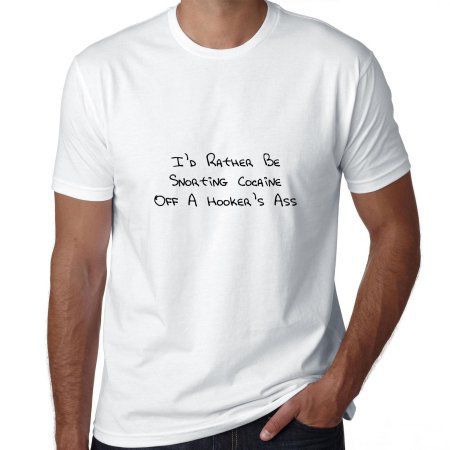 This is way off brand from Hollywood Thread's typically cliché and harmless voice.
Calm down before you hurry to Walmart to buy these for everyone on your holiday gift list. When contacted about the lewd shirt, a Walmart executive, who was unaware of the situation, had them immediately removed. Although third party venders are given a strict list of policies and their products are supposedly scanned for banned words, the lovely "I'd rather be snorting cocaine off a hooker's ass" managed to slip under the radar. Several other offensive shirts also made a brief appearance on Walmart's site, too.
Has Walmart gone evil on us? Has Walmart always been evil? Perhaps. But this seems to be a publicly stunt carried out by Hollywood Thread. Their slew of offensive-ish shirts are all over Amazon. In fact, you can still purchase the "I'd rather be snorting cocaine off a hooker's ass" shirt. And just to think, you were getting all depressed about missing your opportunity to own a piece of fashion history. It's like what Hollywood Thread says about this shirt, "You have great style and you know it! Impress everyone with this unique Hollywood Thread T Shirt." Yea. That's awkward.
---
—

Dan Morrell