Chrissy Teigen fangirled hard over meeting Alicia Silverstone this weekend. If you live under a rock, Alicia Silverstone is the main actress in the iconic 90's rom-com Clueless that still reigns relevant today. She played Cher who was the popular, sassy but sweet girl next door. From her cheeky one liners like, "Ugh, as if!" and "I'm totally buggin'" to her iconic fashions – every 90's girl wanted to be Cher Horowitz. We can prove it too with the following Clueless outfits Alicia Silverstone pulled off that we're still reeling over.
---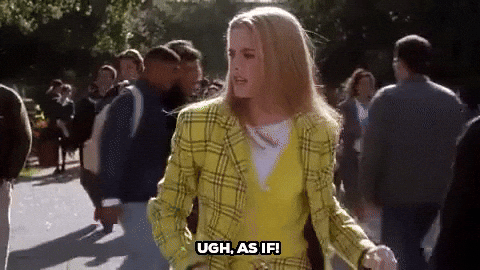 Matching Yellow Tartan Combination
When you think of Cher Horowitz, this is the outfit that comes to mind. When Alicia Silverstone wore this to Lip Sync Battle, Chrissy Teigen as well as the rest of the world, could not handle it. Silverstone looks just as good in it now as she did then. Check out the evidence below if you don't believe us.
---
More Plaid
Cher was a girl who loved her plaid skirts. Only she could pull off a pastel green sweater with white marabou cuffs.
---
The Red Alaia Dress
Who could forget the infamous Alaia dress she gets mugged in. We completely feel her pain when the mugger doesn't realize that Alaia is "a totally important designer." Hence why she shouldn't have had to kneel on the scummy concrete floor in that stunning red dress.
---
White Calvin Klein Dress
Speaking of important designers, how about the ode to Calvin Klein in Clueless. When Cher's dad channels all concerned father figures by asking what his teenage daughter is wearing out on the weekend. Cher assures him it's a dress and he then replies with, "Says who?" To which she wittily comes back with the simple and honest answer, "Calvin Klein." Who could forget that iconic moment or that dress.
---
Sheer Blouses
Chers stuns more than once in the movie with her sheer blouses. They show just the right amount of skin when worn over a simple tank as seen above. Coincidently, we also noticed this sheer blouse overlay became a component in Justin Alexander's spring 2018 bridal collection. Whether or not he got his inspiration from Cher Horowitz? We'll have to wait to find out.
More on fashion.
—

Alicia Drelich